Iconic Digital are proud to announce the launch of a new website for CD Sales Recruitment, the UK's number 1 sales recruitment agency for the 5th year running, as voted in the Recruiter Top 100.
The Problem
CD Technical, a division of the Cavey Dale Group, had a requirement for a new website. Having invested thousands in a bespoke website to manage candidate recruitment and job vacancies, CD Sales didn't want to build another website. Instead they required a functional front end for this emerging business unit. The website would need an integrated blog, poll and page structure that would enable them to create a front-facing portal for technical applicants and clients alike.
Their existing website was in need of new URL aliases in order to support new search engine tags and this meant that a basic HTML website was out of the question. Furthermore, ease of navigation, usability and back office integration were fundamental requirements to the new website.
The Solution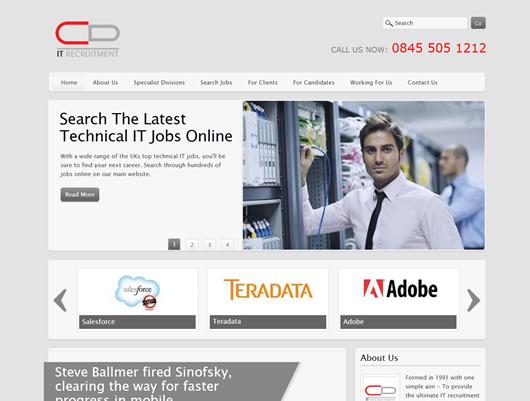 Iconic Digital used the award winning Drupal Content Management System (CMS) for the new website. This solution has been developed to help optimise the website to appear in Google search as well as providing a simple back office web portal to change content.
Users can now edit, create and move content on the website whenever necessary, updating it from the secure portal.
Iconic Digital began by choosing a theme that matched the look and feel of their existing website, keeping the brand theme consistent. We then layered it onto the CMS and setup new blogs to provide the functionality required. This meant that each element of the website can now be easily changed and configured through the back office. The whole process took less than a week to complete and was finished ahead of schedule." says Steve Pailthorpe, MD at Iconic Digital.
The new CMS has been developed by Iconic Digital to be easily used by any member of the CD Sales team, regardless of technical ability. The website works on a block structure which prevents users having to defer to a developer for changes.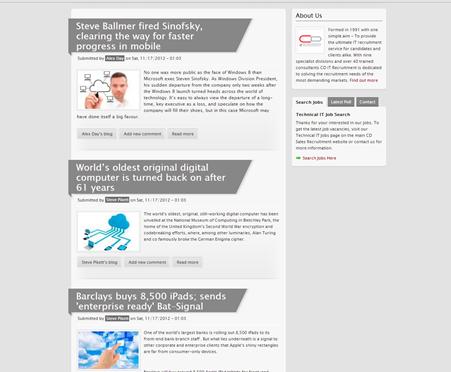 "CD Sales has been delighted with the speed and efficiency shown by Iconic Digital in the production of our website. From start to finish they have added value and produced the website to our exact specification, ahead of schedule", said Simon Cavey, MD at CD Sales, "Iconic Digital has provided a consultative approach that has helped us to ensure that we have a website that is easy to manage whilst being optimised to appear at the top of Google under our chosen key terms."
Included with the website upgrade, Iconic Digital completed a full search engine optimisation audit whilst recommending changes to the coding and structure of the website to improve search engine performance. Iconic Digital provided a bespoke training package for the CD Sales team and continues to support and host their website on our super-fast vTiger web hosting platform.
Find out more about Website Design London